Alison Boyle, Keeper of Science Collections, says goodbye to The International Year of Astronomy 2009.
The International Year of Astronomy 2009 has now been officially 'closed' at a ceremony in Padova (timed to celebrate Galileo's observations of Jupiter's moons, which you can read about in a previous blog). It's been a really successful global project, with 148 countries signing up and thousands of people around the world taking part in events ranging from backyard observing to major international collaborations.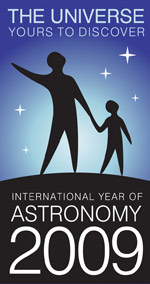 The participants of IYA2009 produced a huge amount of promotional and outreach material – posters, stamps, coins, calendars, T-shirts, badges, books,  movies, and much more. And we're teaming up with the International Astronomical Union to ensure that some of this is preserved.
Obviously it's not feasible for us to collect everything, but we'd like the 'Official IYA2009 Collection' to be a representative sample of the fantastic activities carried out around the world last year, showing the different ways that the national nodes celebrated astronomy. (For example, in Italy the focus was unsurprisingly on Galileo, whereas here in the UK we made a point of mentioning that Thomas Harriot beat him to the first astronomical observation with a telescope).
The material will form part of the Museum's permanent collections, providing a 'snapshot' of how people viewed astronomy around the world in the early 21st century.
The lovely people at the IAU have volunteered to collect material on the Museum's behalf. If you've got something that you think might be of interest, you can join in here before 28 February. Thanks!